The first day I picked up a camera I had front row tickets for a Def Leppard concert. After shooting the show, I was hooked. I continued to shoot concerts for the next seven years, forming my own photo agency, Phantasm, with a partner. We sold to all of the US heavy metal publications and quite a few international ones. At the same time, I was also working as an assistant to Mark de Silvio. This was mostly large and medium format commercial shoots and the backbone of my photographic education.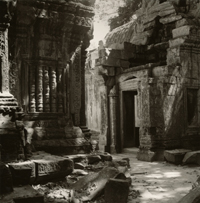 In the '90's I moved to the UK. We had closed the agency and I started freelancing for a US music publication called Alternative Press. These were the glory days of Brit Pop and AP had an anglophile editor. I got to shoot it all. I joined with an agency called Idols who hold all of my music stock and still resell it when appropriate.

During this time I also started to become interested in Fine Art photographic printing. I took a number of advanced black and white courses at Photofusion in London and was constantly buried in their darkroom. I was also given the opportunity to teach the Studio Lighting course for two semesters. Hard work, but a grand time.

It was after my father's illness and eventual passing that made me reconsider my path and strive for what I was training for. Fine Art Photography. I had traveled to Cambodia as an extension to a diving trip in Borneo when I was struck by the nature of the place. Its ancient beauty and silent energy enthralled me. I got to thinking about other ancient city states that would hold the same vibrancy and antiquity. That's when I started trying to plan my trips to Petra and Tikal. On a shoestring budget I managed to reach each site and hoik my Hassleblad through the jungles and deserts respectively, trying to capture what I felt and saw. I hope that my first project will lead to other fulfilling ideas and plan to expand on this, Eternal Cities, at a future date. I hope you enjoy the site and my work as much as I have!